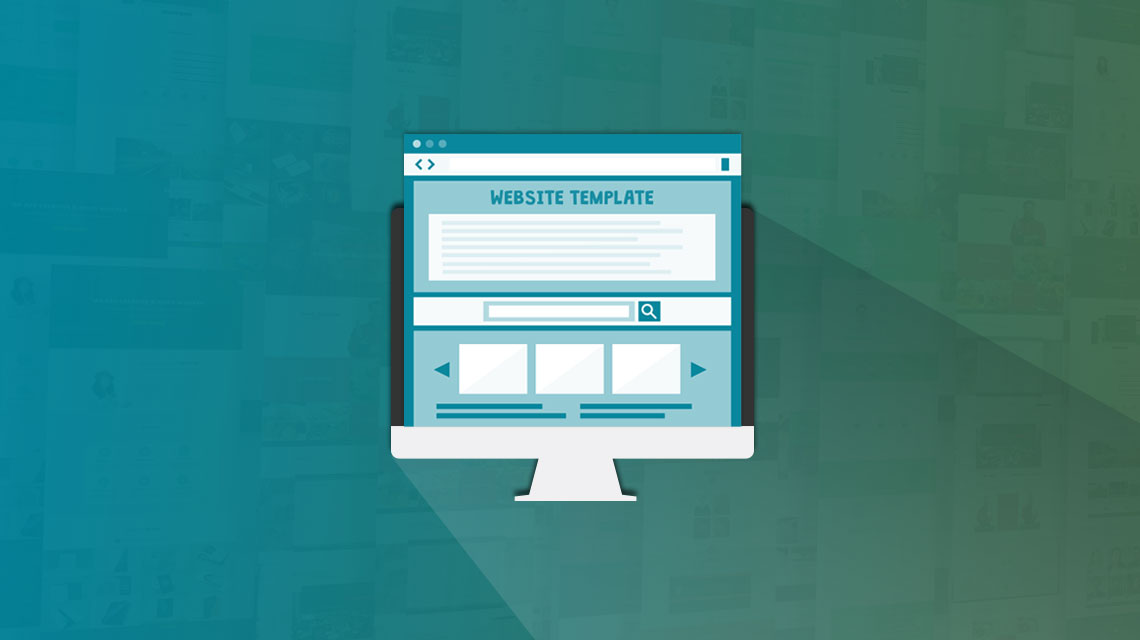 HTML5 has been around for a while now and we can see all developers have started to share free resources in HTML5, CSS3. The templates we are introducing today are totally free with amazing features like flat design, responsive layout, jquery sliders etc. Free doesn't make it any bad as you can see most of these html templates look like premium templates. We have took a little extra time to grab new HTML templates in this exciting list of freebies. Download, share these templates with your friends and you have complete freedom to modify the theme to your project needs without any attributions. High quality theme with retina ready solutions may be of interest these days for majority of the audience and you can find many template being remade for this option along with responsive layout.
There are lots of bootstrap template or themes available on the web. If you search on google about bootstrap templates you will get tons of result. There are lots of bootstrap templates or themes available for Free and Paid on the web. Today, I am going to share some trendy and high quality free and premium bootstrap templates of 2016. I hope, you can find your best choice from that list to suit with next web project.
1. Margo – is Premium quality clean Multi-purpose Bootstrap Template.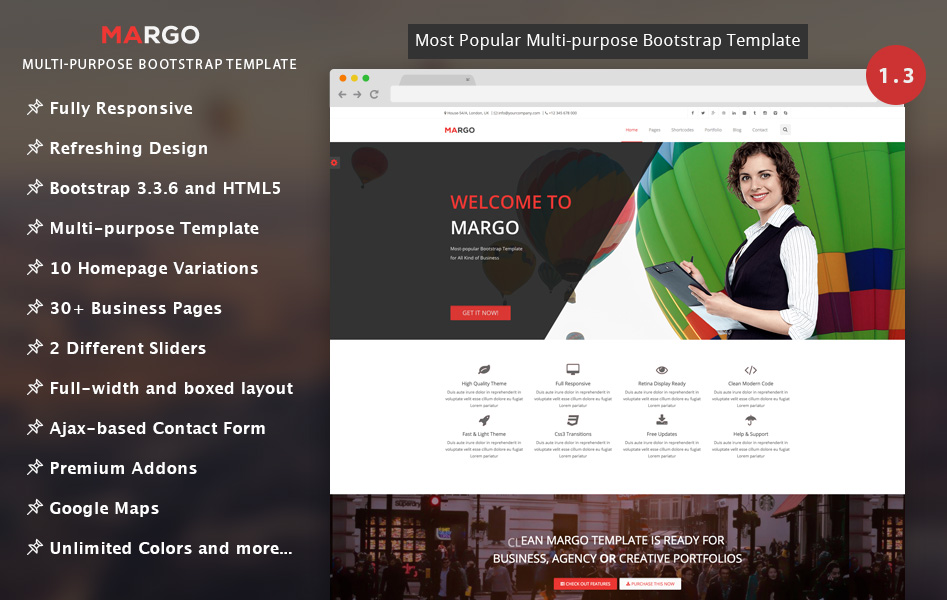 It is great, professional and easy to use template with all necessary features including short-codes, pages & more. Best suited for Business, Agency, Startup, Corporate, Portfolio and so on. Margo is built with latest design trend and technologies. So, it is the ultimate Multi-purpose Template which is gonna be used for your next Web Project.
Details: https://graygrids.com/item/margo-free-multi-purpose-bootstrap-template/
2. Oxygen – One Page HTML Template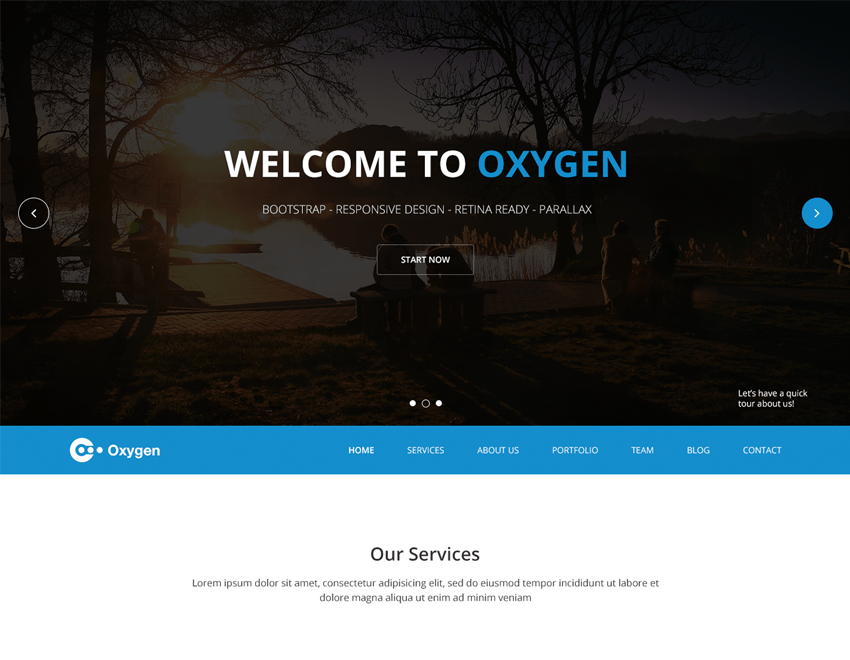 Oxygen will be a handy business template to build a unique flat design business template for your clients with an one page layout and responsive design . Either its selling services or showing your latest apps for android, ios phones this template is a boon to designer and developers alike.
Details: http://demo.themeum.com/html/oxygen/
3. Healthcare – Medical Hospital Responsive Templates with HTML5 and Bootstrap 3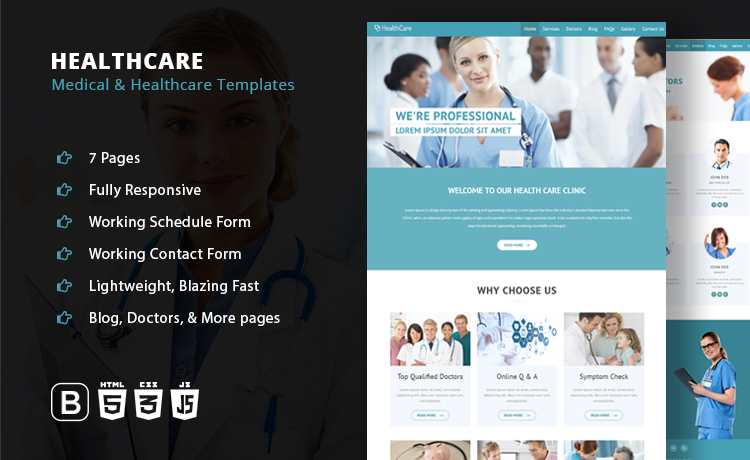 Healthcare medical hospital responsive templates is a great Responsive HTML5 Bootstrap 3 template for hospital, medical or clinics website. This is a free medical website template and you can use it for free; for your personal and commercial use! Healthcare medical hospital responsive templates is designed nicely after analyzing real clinic and medical websites so that it can be beneficial for the healthcare industry. Healthcare is a free responsive bootstrap template designed with HTML5, CSS3 and Bootstrap 3 – the latest edition of Bootstrap framework.
Details: https://themewagon.com/themes/healthcare-medical-hospital-responsive-templates-with-html5-bootstrap3/
4. Pluto – Material Design Free Bootstrap Template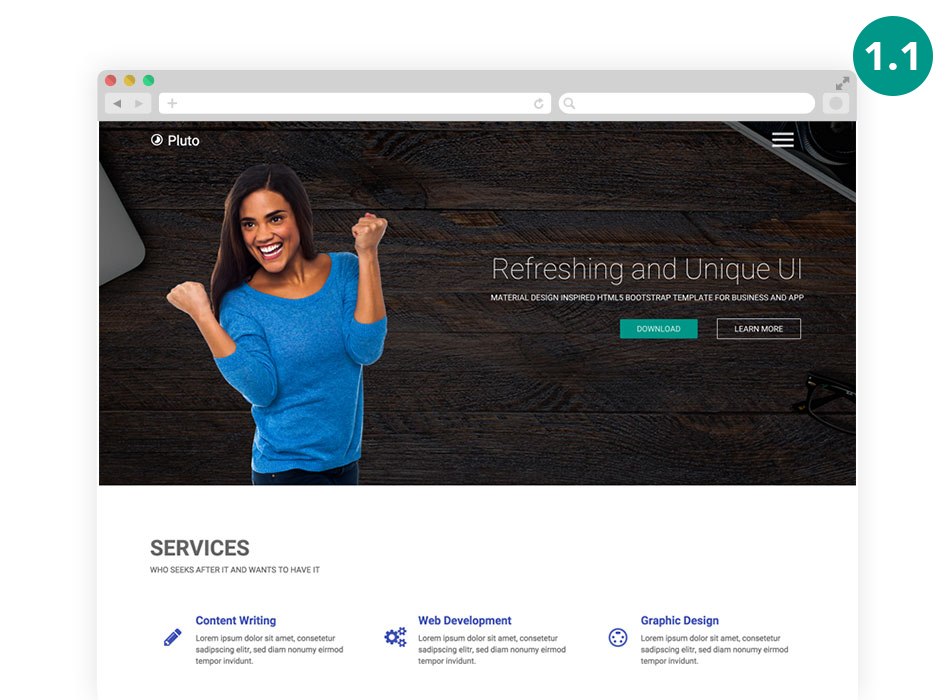 Pluto – is Google's Material Design Based Free Bootstrap HTML5 Template. All Pluto components are based on Google's material design UI components. Pluto – is Best suited for Business, App, Product, Agency, Startup, Corporate and Portfolio Websites. Pluto comes with all cutting edge-features with clean and refreshing design elements, Probably the Best Material Design UI based Bootstrap Template in the market.
Details: https://graygrids.com/item/pluto-material-design-free-bootstrap-template/
5. Landing Zero – A Free Modern clean Bootstrap Landing Page
Simple is the new sexy. And when simplicity blends with elegance, it is bound to be irresistible for someone with a good taste as well as for someone who has the worst taste of all! Keeping this in mind, Bootstrap Zero has designed a Free Modern Clean Bootstrap Landing Page –Landing Zero. This One-page landing page HTML5 Template was designed with the latest versions CSS and SASS and is easily customizable according to your needs. And it was built using Bootstrap3, which makes it a responsive, mobile-friendly Landing page template.
Details: https://themewagon.com/themes/free-modern-clean-bootstrap-landing-page-landingzero/
6. Timber – Free One Page Bootstrap Template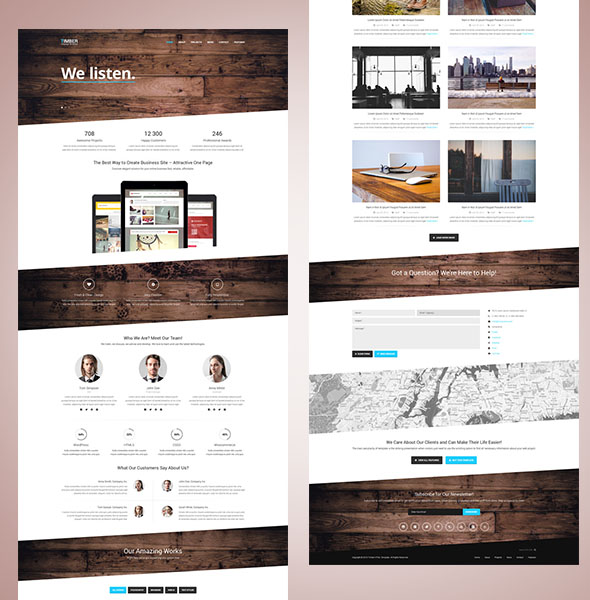 Timber, A newly released theme built using bootstrap responsive framework and a long one page design layout. Features suited in store for business website which are looking for portfolio, gallery, map and contact page and almost everything required for modern day template build is here in Timber template. Check the demo for more clear understanding.
Details: Details: http://www.gt3themes.com/website-templates/timber/
7. Startup – Free Onepage Startup/Business Template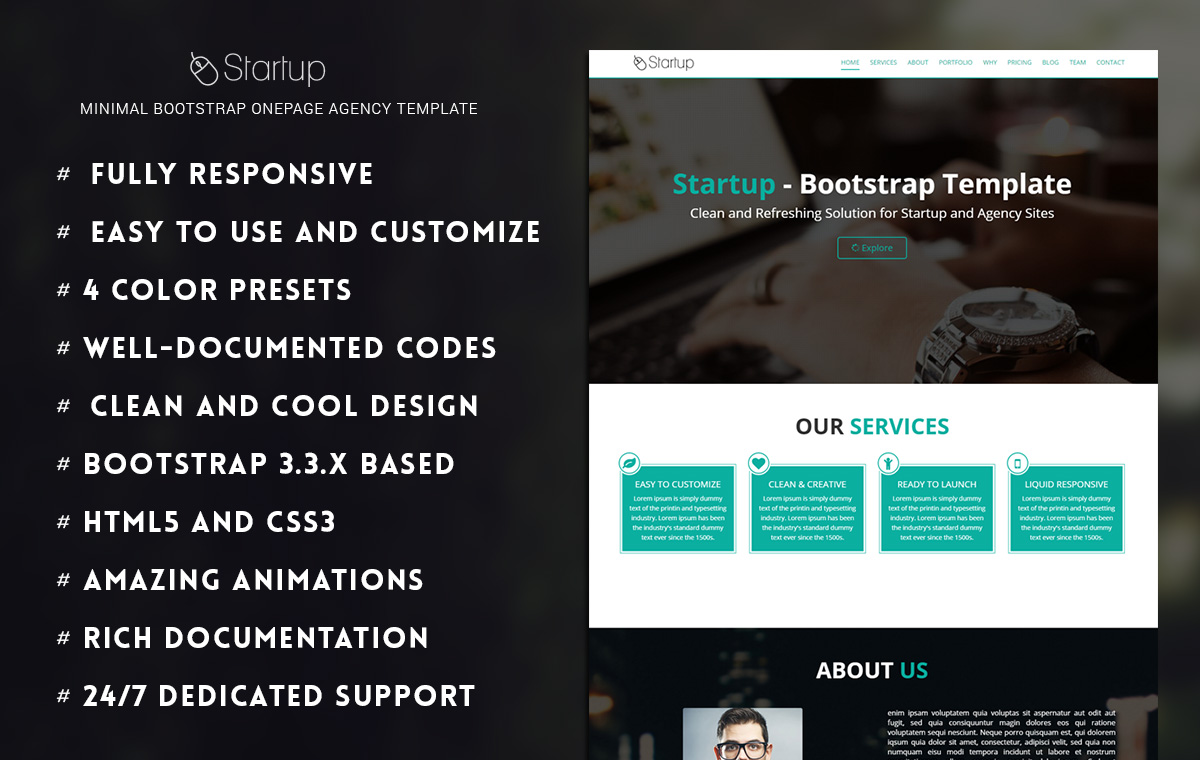 Startup – is Responsive, Clean, Onepage & Free Business and Agency Template with all Impressive Business Components. Startup – is great choice for Online/Offline Business Startups, Portfolio and Agency sites.
Details: https://graygrids.com/item/startup-bootstrap-onepage-startup-and-business-template/
8. Amazon eBook – Free Book Selling HTML5 Template
This is a free HTML5 template for your personal and commercial use. Without a sound marketing strategy, it is almost impossible to sell anything these days, whether it is an aeroplane or a simple pen and you definitely wouldn't want to lose revenue of your well-written book that you spent months on researching and weeks on writing. And for any well-planned marketing strategy, having a website is a MUST to connect your product with its potential customers.
Details: https://themewagon.com/themes/amazon-ebook-free-book-selling-html5-template/
9. E-Shopper – Best Free Ecommerce HTML Template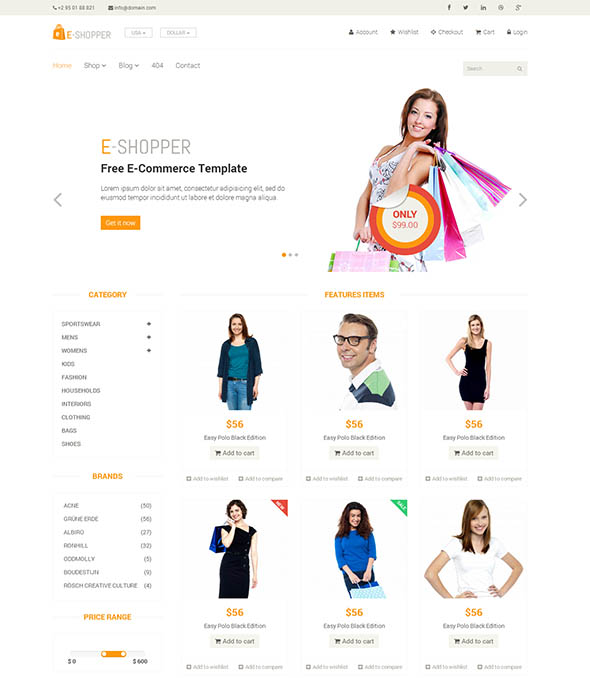 A eCommerce bootstrap template with amazing set of features with a unique slider, full functional sidebars for your online shopping store is here for free. The product listing can be displayed aggressively with this html template with interior product pages provided with add to cart options and image previews.
Details: http://demo.themeum.com/html/eshopper/
10. Multi – Free Responsive OnePage HTML Template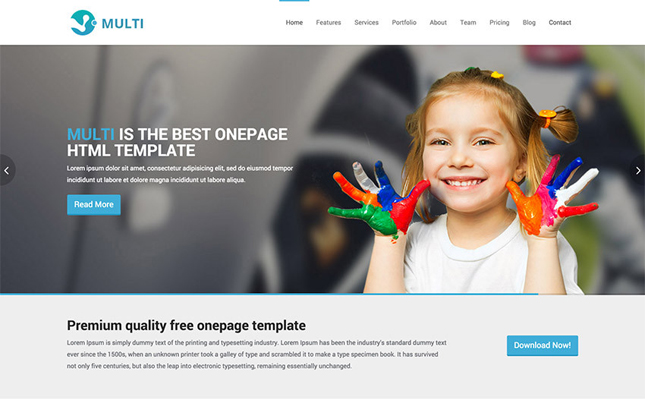 The beginning of multipurpose theme era. Multi goal is to help you build unique and modern website fast, easy and with the lowest cost possible. This responsive HTML5 theme will be a great solution for your business, portfolio, or any other professional purpose website.
Details: https://shapebootstrap.net/item/1524960-multi-free-responsive-onepage-html-template